Friday Fragments is brought to you by
Mrs4444
!

We celebrated our fifth wedding anniversary yesterday. After a week full of tax bills, broken down cars, and large vet expenses, we canceled our dinner out and just met for a nice lunch, instead. After Charlie went to bed we had some Ben & Jerry's and watched the old X-Files movie. It was just perfect.
I might be biased, but I think we live a very lovely life :)

Speaking of movies, do you know how hard it is to actually find a movie at a brick-and-mortar store these days? I called more than ten stores in our area looking for the X-Files Blu-Ray, and no one had it. No one even had the DVD version!
I guess next time we want to watch a movie we'll just have to plan ahead and order online. Luckily for us, we were able to borrow it from some friends. When did the Suncoast Videos of the world go out of business? I know I've been an Amazon/Ebay purchaser, but how did I not notice that these stores were shutting down?

The friends that let us borrow their DVD are also the friends that we're going to the baseball game with tomorrow night. That's right, Charlie is going to his first baseball game! I'm kind of sad that it's not a Yankee game, but I guess I'll take what I can get. At least the Reds are doing well. He will definitely be wearing his Jeter shirt, though. Sorry Alison :)

I keep catching Husband Charlie trying to teach Toddler Charlie to say "Yankees Suck." I've been able to restrain myself, but it's very difficult not to teach him to say something even nastier about the red sux. I'm sure Charlie will grow up knowing exactly what team he should be rooting for. After all, I've created the perfect environment in which to socialize him in the Yankee direction.

Over the weekend I discovered that Toddler Charlie knows the words to "Take Me Out to the Ballgame," and it just might be the cutest thing ever.

Never thought I'd be this parent, but I'm about to buy the Yo Gabba Gabba! CDs to listen to in the car. I can't figure out if they're more for Charlie or for me. Wiggle, wiggle, wiggle, wiggle, wiggle, wiggle, wiggle... hold still!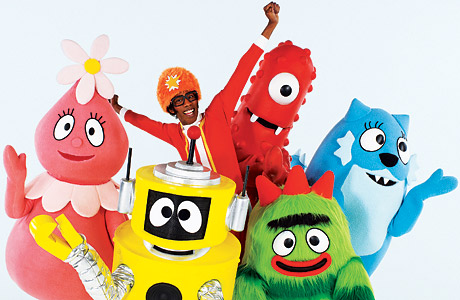 Have I mentioned that I hate Gillian Anderson?