Sorry, Reds fans, my status as a fan of the game of baseball trumps my desire for your team to win baseball games. For today, anyway. Last night we were treated to a new chapter in baseball history, as Roy Halladay pitched only the second no-hitter in baseball postseason history (The first? Why, Don Larsen, of course, as a Yankee in 1956).
It was a-freaking-mazing. I listened on the radio through the 4th inning, and the "perfect game" thoughts were already crossing my mind. We went out for dinner (Wednesday = margarita night in our house) and watched the 5th-7th innings while we were there, then listened to the 8th on the way home, and settled in on the couch for the last 3 outs.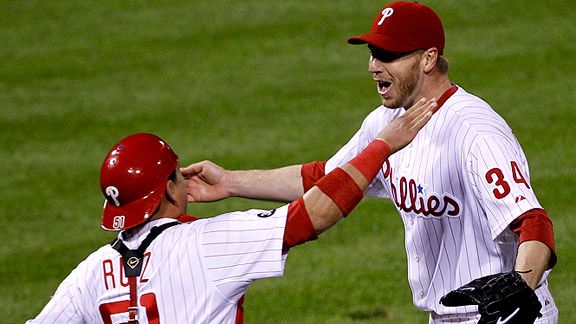 And then the Yankees. Oh, the Yankees. My heart was pounding the whole game. I was ready to bury my head in the pillows by the third inning. I went upstairs to listen to the game on my phone in the fourth, and then decided to force myself to go back down and watch the rest when they had taken a 4-3 lead. Within minutes, CC had walked in the tying run. And then Tex came up to bat, and the rest is history.
Oh but wait, the umpires did blow an obvious call on what should have been a beautiful shoestring catch. Lucky for us it was Mo on the mound, and he got the
third
fourth out effortlessly, looking like vintage Mo.
It wasn't a pretty game by any stretch of the imagination, but a win is a win. Someone really needs to do something about the late start times, though. It ended up being a 4-hour game, and midnight-thirty is just too late for me. TG for Dunkin.