Friday Fragments is brought to you by
Mrs4444
!

Mini-vacation starts tomorrow! 3 lovely days of spending time with my sister and her fiance. I miss her constantly, so I'm really looking forward to it. The weather is supposed to be lovely.

Baseball has been a roller coaster this postseason. There was that brilliant comeback by the Yankees last Friday night (holy cow, was that a week ago?! Feels like a lifetime!), followed by three losses in a row, and then a seemingly-easy win on Wednesday. Friday night I watched the game in a bar full of Yankee-haters. It was hard to be the only one celebrating the dramatic comeback. Potential game 7 will be even worse, because I'll be stuck with my sports-hating in laws. I forsee a lot of quality time spent with my Droid.
Let's go Yankees! I want to celebrate this again.

I have a baseball crush on Tim Lincecum. True story. I think it's because he reminds me of Mitch from Dazed and Confused. I loved that movie.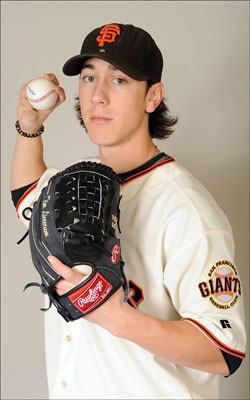 He's the kind of guy I would have dated in high school. Because dating in high school means so much, and all.

Speaking of baseball crushes, my fantasy life was dealt a crushing blow when I heard Mike & Mike talking about Jeter's upcoming nuptials. I knew he was engaged, but now that they've actually set a date I guess there's no turning back. That's right, ladies, as of November 6 he will be officially off the market. Not that I'm on the market, or anything. Hopefully they'll also be celebrating the Yankees winning a 28th World Series Championship that weekend.

I have 19 Yankee shirts hanging in my closet. That's an impressive total, but it doesn't even count the ones that are folded up in my drawers. I'll have to do a full count at some point and take a picture of my awesome collection. I even have Yankee pajamas, but that shouldn't surprise anyone.

We bought our tickets to Harry Potter 7! We have a double-date planned for November 19th. As much as I wanted to go to the midnight show the night before, that whole "responsible adult" thing was getting in the way.
CAN'T.FREAKING.WAIT.

Office QOTW
A horse is just a bike that pedals itself.
Do you think we just met Michael's replacement?

Happy Friday!!