Friday Fragments is brought to you by
Mrs4444
!

It's been absolutely awesome out this week - temperatures in the upper 60s, and we even hit 70 yesterday! I tried to get out and enjoy it while it lasted, rumor is that we're getting back to snow on Tuesday :(
When we were kids we used to take the seats off of the Big Wheels, pile on as many kids as possible, and fly down the big hill in our neighborhood. It's a wonder any of us made it out alive.

I've been struggling with my MP3 player lately. It only plays the songs in one order it doesn't hold enough music to go without repeats on my long runs. To be fair, I only paid $10 for it a few years back. So I've decided to get an iPod shuffle. That's right, I'm drinking the apple Kool-Aid. It's going to be my reward for finishing the half marathon next month (March 20!!).

Speaking of KoolAid, do you remember these?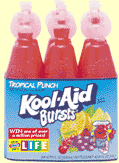 They were SO gross, but SO cool at the same time. It wasn't until my parents caved in and bought us a pack of them that we realized they had been watering down the KoolAid for our entire childhood.

Have you seen the
Vermontasaurus
? Pretty neat.

I'm annoyed with The Office this week, so my top quote of the week is coming from The Daily Show. Technically I have two favorites, but one of them is R-Rated so we'll go with the other one.
From John Hodgman, the resident expert on everything, talking about how to cut the budget by altering the shape of the Pentagon:
I'm talking about the Rhombus, the most threatening of all the parallelograms!
Mmmm, geek humor.

I was really glad to see Ken Jennings give Watson a run for his money on Wednesday night. Unfortunately, it was too little, too late. I still <3 Ken, though. How can you not?

Even though it's Friday, it's going to be tough to beat the awesomeness of yesterday: Half day at work, Dewey's Pizza for lunch, running in short-sleeves and capris, and playing at the park. Here's to trying! 15 mile run on the schedule for tomorrow, so I plan to do a whole lot of nothing tonight :)